Professional anti-corrosion equipment
2018-03-01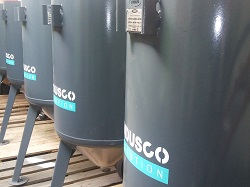 INDUSCO Solution distributes prefessional anti-corrosion equipment. Our offer contains a wide variety of equipment and protective clothes for workers oraz akcesoriów do prac antykorozyjnych Thanks to our long time experience we guarantee the choice of the best and tested anti-corrosion equipment such as. blast cleaners. We also have professional sand blasting services for glass and mirrors in our offer.


Good quality at low price
We offer to our client only highest quality anti-corrosion equipment. All solutions offered by us have been put in practise by our experts. We stand out from among our competitors due to low prices of anti-corrosion equipment,while providing equipment of a hight quality.


Professional service
We sell sand blasting equipment to all locations in Poland. Indusco Solution has its own account on Allegro, where you can by professional anti-corrosion equipment at attractive prices. We guarantee instant delivery of the anti-corrosion equipment you buy
We offer to our clients professional advice in terms of selecting the right sand blasting machine. Our specialists will gladly answer all questions and help to solve any problem connected with sand blasters.. We invite you to use our offer.